About Us
Ballooning in Tuscany started as the Discovery Club in 1990 when English balloonist Robert Etherington and his wife, artist Liz Graham-Yooll, established ballooning in the area. 20 years later in 2010, Robert and his wife decided to move to France and at this point contacted the owner of Virgin Balloon Flights in Britain to take over the business. With the recent European integration it had become possible for Commercial Air Operators to work in any of the member states of the European Union.

Although Robert and Liz are no longer involved and live mainly in France, they regularly keep in touch and are always keen to ensure we are living up to the exacting standard which they established over the years. We believe we have been able to improve even further, but we'll let you be the judge! We look forward to meeting you very soon for an unforgettable balloon ride over historic towns and the beautiful Italian landscape.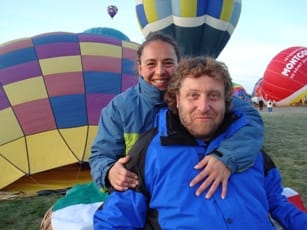 Bookings and other inquiries
Please feel free to contact us, we will be more than happy to give advise where to stay and what to do when you are in Tuscany.
Paolo and Monica
+39 338 146 2994
info@ballooningintuscany.com