Q. How long is the hot air balloon flight?
The hot air balloon ride with us lasts for around one hour, depending on weather conditions and suitability of landing sites, but you should allow at least three to four hours for the whole ballooning experience.
Q. Where do you fly from?
The area in which we fly spans across parts of Tuscany and Umbria, it starts from Cortona and Montepulciano in the south and ends just south of Florence in the north. It consists of rolling hills and steep valleys, villages on hilltops, and isolated farmhouses and castles. Closer to earth we can chat to farmers clipping their olive trees or seeing to their vines as we coast by down the valley, looking for a place to land, skirting castles and villages that have not changed in centuries. It is a well cared for landscape that is a pleasure to behold.
We have sites near Cortona and Siena which can be booked for groups of four or more and our prime launch site is located in the beautiful valley below Montisi allowing us stunning flights in any direction.
Montisi is an historic village located about half way between Rome and Florence, in southern Tuscany. Siena lies to the north while the wine towns of Montepulciano and Montalcino are about 10 miles away to the south and to the west. The village is sited on the ridge of hills separating the Val di Chiana and the Crete Senesi, a unique landscape of rolling hills, and close to the stunning Val D'Orcia, a World Heritage Site.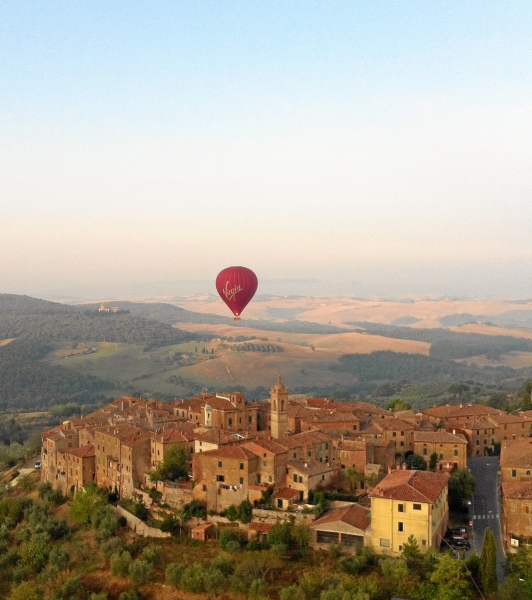 Q. What else is there to do?
Book an hour-long walking tour of the village to learn its history, and to feel at home. Visit surrounding villages, monasteries, Etruscan and Roman ruins and enjoy a coffee or glass of wine in a village piazza or take day excursions to see the great art and architecture of Tuscany's historic cities Florence and Siena where you can shop for Italian designer wares and hear Gregorian chants. Wander through Arezzo, famous for antiques, or relax in the hot mineral waters of Bagno Vignoni.
For serious bikers, rent high quality bicycles and enjoy our hills, take a Quad bike tour for a half-day ride through the fields and back trails or go horseback-riding.
Take a lesson or two in painting and drawing with one of Montisi's professional artists or book a wine tour or a tasting either in Montisi, or in the nearby wineries producing Brunello, Chianti and Vino Nobile.
Q. When do you fly?
We generally schedule hot air balloon rides seven days a week from June to September, depending on annual variations in weather conditions. Our balloon flights take place in the morning around sunrise, the exact time is depending on the time of year and will be confirmed with you before the flight.
Q. Why do balloons generally fly early morning?
This is when conditions are best for ballooning. As the sun comes up it heats the ground which in turn heats the air above causing thermals or columns of rising air. These thermals cause updrafts and downdrafts which affect a pilot's ability to safely control the altitude of a hot air balloon.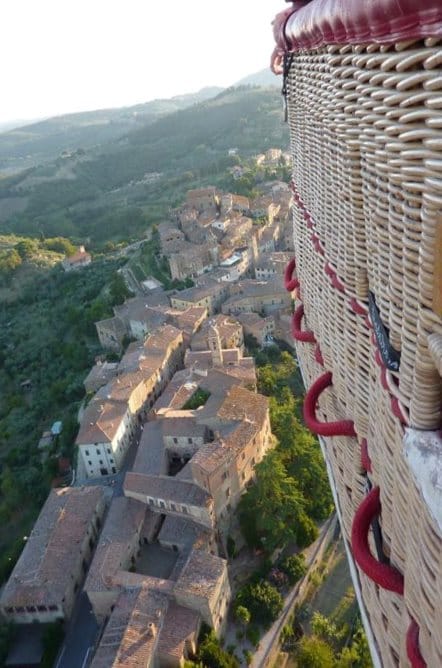 Q. How high will we go?
Around 1,000ft to 2,000ft (305m–610m) but sometimes up as high as 3,000 feet (1050m) – although this depends on airspace restrictions and conditions on the day. Even at a few hundred feet the views are incredible and over 1,000ft you can start to see for many miles around. How far you'll fly depends on the wind speed and on how long it takes the pilot to find a suitable landing spot. You could fly a relatively short distance or as far as 15 miles (24km).
Q. Where will we land?
As hot air balloons travel on the wind, you never know where exactly you're going to land which makes it all the more exciting. The pilot will start looking for a suitable landing site after about 1 hour. An ideal field will be free from crop and animals with good access.The retrieval crew will track the balloon on the ground and aim to arrive shortly after landing. After the balloon is packed away they will transport you back to your meeting point.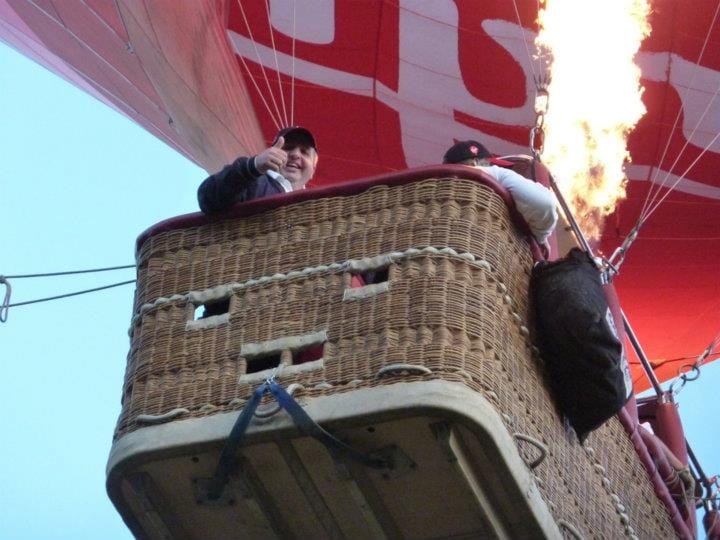 Q. What is the landing like?
Flying in a hot air balloon is a very serene experience while in the air, but it is an adventure activity in the great outdoors and sometimes on landing the basket can tip and/or drag along before coming to rest. This is how balloons have been landing for over 200 years and it's perfectly normal and safe. The balloon and basket are designed for your comfort and safety throughout the flight. During landing you will be in the safe landing position within the basket as instructed by your pilot. Many people say the landing is their favourite part of the flight.
Q. Can people come with me to watch?
Spectators are very welcome at the launch site. However, we would not recommend that spectators try to follow the balloon by road for safety reasons.
Q. What should I wear?
We recommend clothes suitable for a walk in the country depending on the time of year and on the specific day you are flying. The temperature in the air is similar to on the ground. Generally comfortable layers are a good idea, plus a cap or other hat because of the radiant heat from the balloon's burners. Sensible closed shoes or trainers are essential. Passengers can help with the inflation and deflation of the balloon and we also recommend you wear clothes which you don't mind getting a little dirty just in case. Please don't wear your best designer gear!
Look at our Facebook pages for news and more pictures.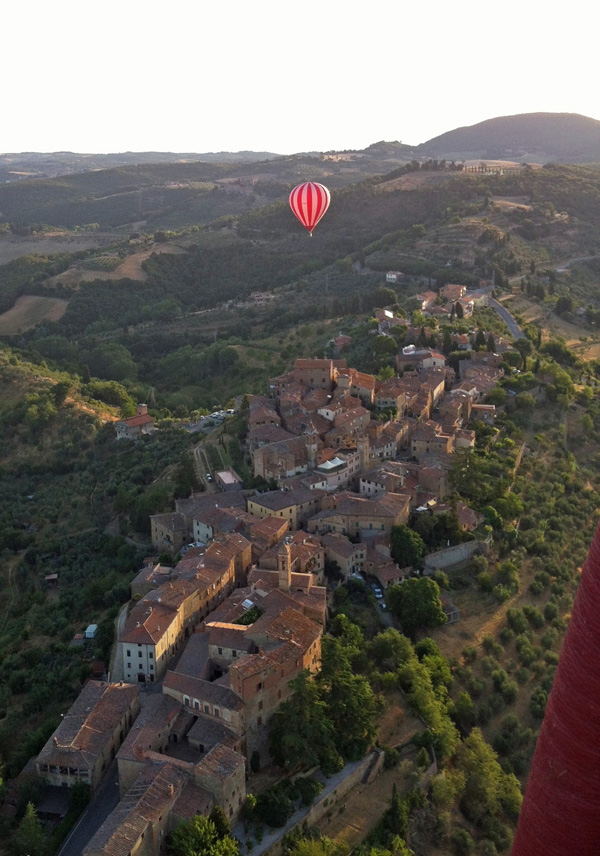 Q. Can I bring a camera?
Yes, you can bring a camera, binoculars or camcorder as the balloon makes an excellent platform for photography. They must not be in metal cases and they are carried at your own risk.
Q. How many passengers are there in the balloon?
Our larger balloon carries up to 12 people, and our smallest balloon two people.
Q. Can anyone fly in a hot air balloon?
Children must be aged seven or over, and of a height to be able to see over the edge of the basket. We recommend that under 16s are accompanied by an adult. Passengers must be physically able to climb over the side into the basket with the steps provided, stand unassisted for an hour and adopt the seated landing position. You should also be sure you don't have any pre-existing medical conditions which could be affected by the ballooning experience and seek medical advice if unsure. Anyone weighing over 20 stone (127kg/280lbs) will be required to pay a supplement. We are unable to fly passengers who are pregnant or have recently had major surgery.
Q. Can I fly the balloon myself?
No, unfortunately not. Our pilots are all qualified and highly experienced and we think it's best to leave the actual flying up to them. However, they will be happy to answer questions about how they got into flying balloons and how it all works.
Q. Is hot air ballooning safe?
Hot air ballooning is an extremely safe activity which is regulated and Ballooning in Tuscany is licensed in Italy for commercial passenger balloon flights by both the British and Italian Civil Aviation Authorities. We follow strict safety guidelines and use the latest ballooning equipment. Our pilots are highly experienced and hold full commercial balloon licences.
Q. What about insurance?
We are insured for public and third party liability in accordance with REGULATION (EC) No 785/2004 OF THE EUROPEAN PARLIAMENT – INSURANCE REQUIREMENTS FOR AIR CARRIERS AND AIRCRAFT OPERATORS. You may still wish to check with your holiday insurance to ensure it covers activities like hot air ballooning.
Q. Why would a hot air balloon flight be cancelled?
Hot air ballooning is weather dependent and sometimes pilots will cancel flights because the weather conditions are unsuitable and potentially unsafe. Unfortunately this is unavoidable. This can be because of rain, strong winds, poor visibility, very wet ground conditions or the possibility of thunder storms. Our pilots make their decision to fly based on the most relevant and up to date forecasts available. Sometimes the actual conditions may be different to what was forecasted, but we feel it is important to always put safety first.
Q. What happens if my balloon flight is cancelled?
If we have to cancel your flight because of weather or other reasons outside of our control, we will do our best to re-arrange your flight during your vacation. If we are unable to do this we will give you a full refund within five working days of the flight date.
Q. What if I want to cancel a balloon ride?
You can cancel your booking by calling or emailing us in line with our cancellation policy:
You can cancel up to 30 days before the flight date and receive a full refund.
If you cancel within the final 30 days up to the day before, you will receive a full refund less an admin fee.
If you cancel after 12 noon the day before the flight you will not be entitled to a refund.
However, if you have to reschedule with short notice we will do our very best to accommodate you on another flight during your vacation. This is obviously subject to space being available and cannot be guaranteed.
Don't forget—ballooning is a weather dependent activity so if the flight has to be cancelled and cannot be rearranged at your convenience then we will give you a full refund within five working days of the flight date. Paying with PayPal makes it very easy for us to do potential refunds since we can simply, with a click of a button, refund your PayPal account. Please note that some bank transfers can take time to reach you depending on who you are banking with. If you are experiencing any delays please let us know so that we can email you a copy of our bank transfer document which allows your bank to trace any delayed payments.
Q. Have we answered all of your ballooning questions?
If not, please contact us and we'll be happy to help.