Why not explore Tuscany by converting your Virgin Balloon Flights voucher to a Ballooning in Tuscany voucher? Take a timeless balloon ride with our Italian sister company Ballooning in Tuscany and fly from an enchanted valley at Montisi, south of Siena. Soar above ancient towns such as Pienza, Montepulciano and Montalcino with their famous vineyards and enjoy a fantastic breakfast of fine local produce.
Holders of 7 Day Anytime Plus vouchers purchased at full RRP directly from Virgin Balloon Flights can use these for a flight with Ballooning in Tuscany without a need to convert or pay extra fees.
Holders of other types of vouchers, or vouchers bought on special offers, can convert their current (valid) Virgin Balloon Flights voucher to a Ballooning in Tuscany voucher. Our heavily reduced price for a Ballooning in Tuscany voucher is £195 and you would pay the difference between this and what you paid for your voucher.
Please contact us by phone or email and we will tell you what you need to do to book and fly in Tuscany.
How to get there.
The closest airport is Perugia which is about 1 hour drive from our base in Montisi. Another alternative is Pisa which is a 2.5 hour drive but you would be passing both Florence and Siena on the way so this could be an interesting proposal. There are lots of flights to choose from between British Airways, Ryanair and Easyjet. Car Hire is also relatively inexpensive in Italy.
Where to stay.
Accommodation is plentiful and ranges from inexpensive Agriturismo's to luxury villas. For Agriturismo's look at www.agriturismo.it and also the Ballooning in Tuscany links page for suggestions of where to stay and what else there is to do.
What happens if your flight in Tuscany is cancelled?
The weather in Italy is traditionally better than in the UK but it can still subject to days of unsuitable flying conditions. Please note that we only fly mornings in Tuscany so you would have the rest of the day to explore the area.
In the event of your flight being cancelled and cannot be rearranged during you stay, any upgrade amount paid for a balloon ride in Tuscany is fully refundable. We would also replace your old Virgin voucher with a fresh 12 months' validity voucher or you can exchange the total for a Virgin Experience Days gift card to be redeemed against a range of other experiences.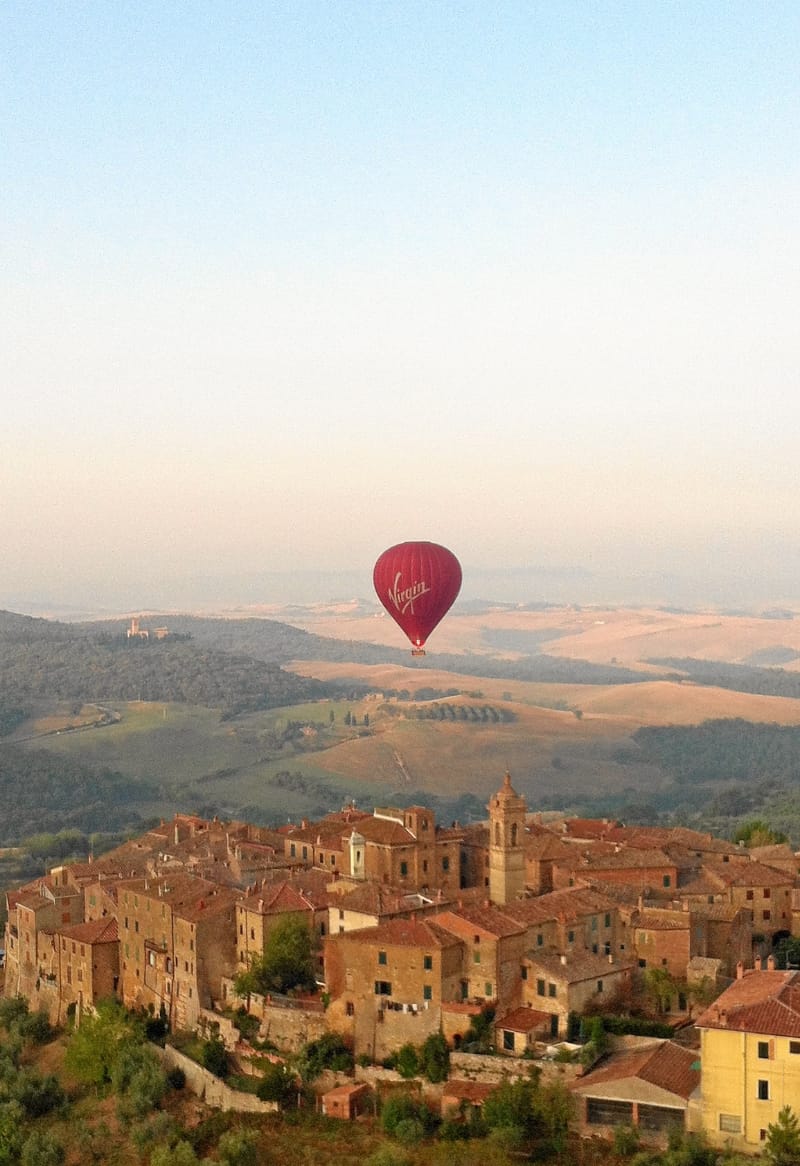 If you have more questions.
Either call Monica at our Italian office on +39 338 146 2994 or email her on info@ballooningintuscany.com. You can also look at the Ballooning in Tuscany FAQ page.
Look at news and pictures on Facebook.
Some exclusions may apply if your vouchers were purchased from a third party seller and not directly from Virgin Balloon Flights. Please contact us by phone or email for more details.